This past week, Rick and I went on another quick mini-vacation to Portland to see M.Ward/Calvin Johnson @ the Crystal Ballroom. It was excellent times, filled with Powell's, record stores, cool new people, parks and so much delicious vegan food. We checked out Red & Black finally, and loved it. It was much smaller than I anticipated, but it had a home-y friendly feel to it that made it incredibly inviting. It was lined with cool artwork, guitars, and posters announcing various cool events around town. And I had no idea that it was employee-owned and pretty much essentially a co-op. Portland seriously has it together. I'm jealous of these awesome Socialist organizations and entities that abound in this city.
Anyway, the food was delightful, and I'm assuming they grow the majority of their veggies. We also checked out Blossoming Lotus, which I've read a ton about in various blogs, and was not disappointed by. It reminded me of the vegan restaurant I worked at in LA, (Native Foods) except it was about 50% more hippie-dippie than Native, only cemented by the fact that it was connected to a yoga studio. The hippie-ish thing isn't necessarily a bad thing; I find it endearing, but I know most people would probably be annoyed by it a tad. I had a Mediterranean type salad thing with Kalamata olives and tofu feta and Rick had a curried vegetable bowl that was delicious. To top it off, I naturally had to get the vegan soft serve. To make matters even more perfect, the weather was amazing out and the flavor was chocolate peanut butter. Om nom noms. If I actually lived in Portland, I would go there a few times a week, just for this soft serve. Also because of it's insanely convenient proximity to the main Powell's store.
We also checked out Laurelhurst park for me to bask in the sun, and for Rick to seek shade under a tree. Also, to get some quality reading time in.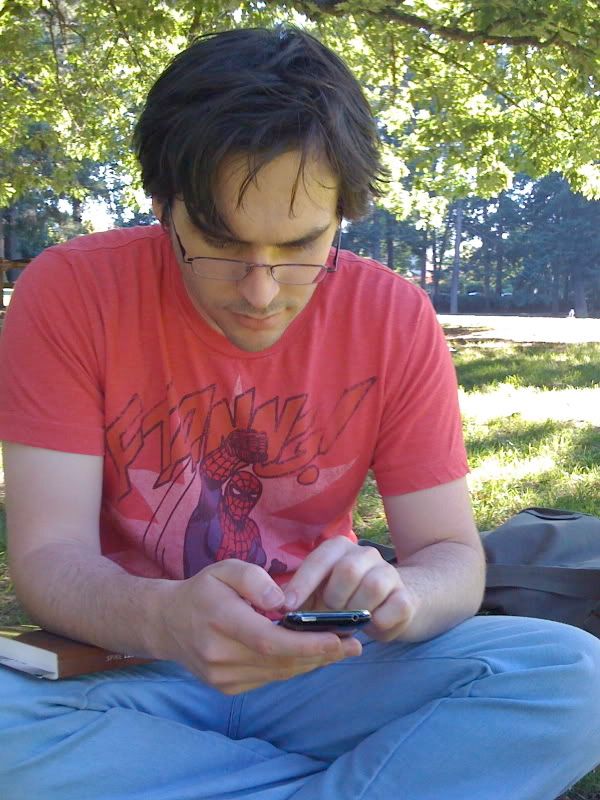 Rick, playing with new toy, under the tree, readin' about Spike Lee
M.Ward was effortlessly tight-sounding, per usual. We were closer to the stage than I've ever been at the Crystal Ballroom, and that made for some actually decent camera pictures. We'd just seem him perform a few days prior at Bumbershoot, but thankfully he switched the lineup a tad and played some more Portland-local songs that the residents (and wannabes) eat up. He also played "Undertaker," which made Rick and I very very happy. He played for about an hour and a half and then did a short encore. Calvin Johnson, on the other hand, played for about all of 20 minutes. I'd never seen him live before, but I enjoy his work on the whole and was semi-disappointed by the tiny set. But damn, I had no idea that he'd gotten so old.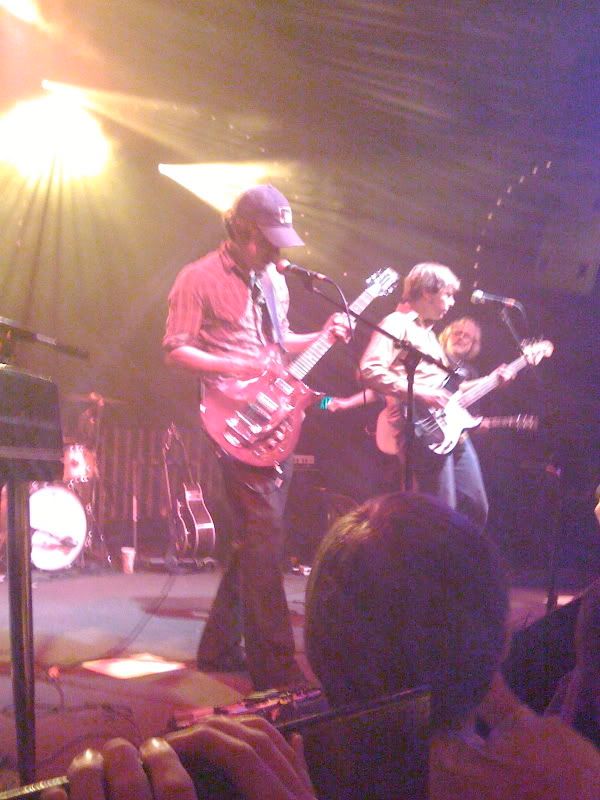 M. Ward and awesome old man/whistler guitarist + bassist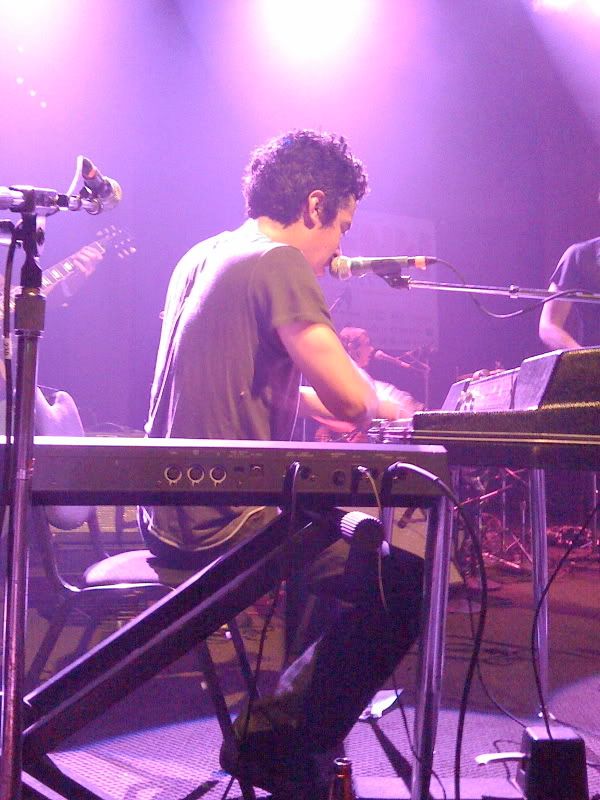 On the keys. Rick described this photo later as being "AP-worthy." Shucks.
As is the case every time we get home from Portland, I am that much more in love with the city than the last time. In other more dismal/local news, I am still unemployed. I am getting interviews (good) but have yet to cinch something, (bleh). There are so many cool jobs out there and I think I have some relevant experience for them, but apparently these two factors aren't adding up quite yet. I'm waiting to hear back from two non-profits in Seattle, so crossing my fingers. I'd honestly be happy with either, although I'd obviously love to not commute. We shall see, I'm still applying to anything that sounds semi-interesting, and hopefully something will play out soon.
Switching gears (literally), we picked up my beautiful red Schwinn bicycle that Bonnie gave me for my birthday last year (and that I have yet to ride) from Rick's dad's today. I need to get new tubes, check the brakes, and hopefully it will be ready to ride. It's so lovely, I can't wait.